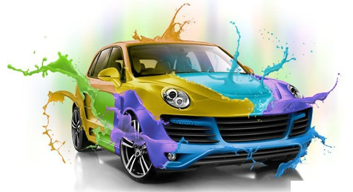 Automotive Painting & Refinishing
We use BASF Glasurit and Spies Hecker Paint. Lincolnwood painting technologies will have your car or truck looking like new in no time. All paint is backed with a manufacturer's lifetime warranty.
All paint work begins by working on a flawless surface, free from dirt, grease, and any other material that may interfere with a perfect finish. LAB painters will prep and prime the repair area. Once the primer has cured, our painters achieve a smooth surface by sanding and prepping for paint.
Next step for painter to mix the colored basecoat to match the vehicle's color and spray the vehicle with precision to match the factory color. After the basecoat is ready for topcoat, the clear coat is applied. This restores the vehicle's natural gloss finish back to its factory appearance.
If there are any blemishes left after painting, technician will lightly sand and polish any affected areas to a perfect shine.